Our mission is to contribute to North American manufacturing using production know-how and our vast global network.
For more than 40 years, we have been providing equipment to U.S. customers in various industries, including factory automation, plastics, and battery, through the worldwide resources of the DJK group network. Together with the DJK global network, we offer diverse industry knowledge and insight into a variety of manufacturing technologies.
As a trading company, we can assist our customers with everything from determining the right target market to building a plant in an Asian country. We also export U.S. industrial equipment to Japan and other Asian markets.
DAIICHI JITSUGYO (AMERICA), INC. (DJA) is a unique trading company. Our uniqueness comes from our pioneering spirit. We are not afraid to challenge existing systems as we explore new frontiers. We are flexible enough to learn modern technologies and we have the company culture and resources to ensure success.
As the world changes, the U.S. manufacturing industry will face many challenges. We believe that the manufacturing process must adapt to market changes for U.S. manufacturing to not only survive, but to thrive. By providing up-to-date total manufacturing solutions through our unique capabilities, we can support our customers in this changing world.
We are here to support our customers using arduous work, an innovative spirit, vast resources and the DJK global network.
Tadashi Hyakudo
President
DJA is a production technology based trading company with a global network of connections, customers and vendors which facilitate the global purchase, sale and service of various manufacturing equipment, machineries and even machinery plants.
To provide facilities, machineries, equipment and production technologies to our customers (manufacturers) in the U.S.A, Canada, Mexico and South America, including Brazil. Our goal is to create opportunities for U.S. customers and vendors to expand overseas through our global network.
We consult with customers and propose the best equipment and services to match their needs. We gather production and machine technology information in consideration of the quality, performance, cost, energy efficiency and environmental friendliness from our network of global resources.
Our people, with a wide range of technology knowledge, who are capable of consulting customers about the equipment and machinery they need.
Wide-reaching connections to global equipment manufacturers and technology companies.
We purchase and sell globally through our own network, our customers and our vendors.
We are a total solution provider of machinery, applications and process technology, including after-sales.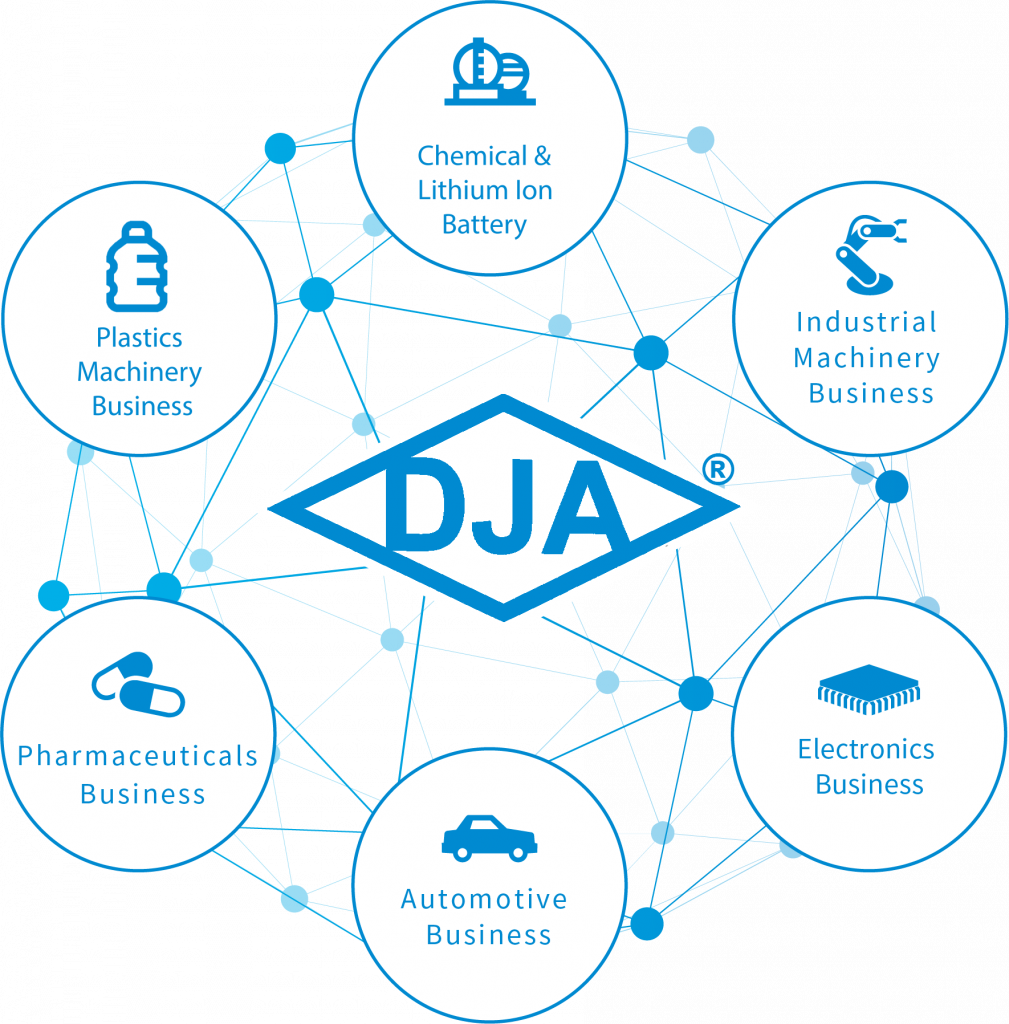 Importer of equipment and machineries from Japan and India
Sales and after-service of the imported equipment and machineries
Locate cutting-edge equipment, machineries and production technology in the U.S.A. and Canada
Develop market, especially in Japan and Asia, and export, sales and set up services locally
Sales and services of facilities, machineries and plant equipment to companies from Asia, especially Japan, who are expanding their business in North or South America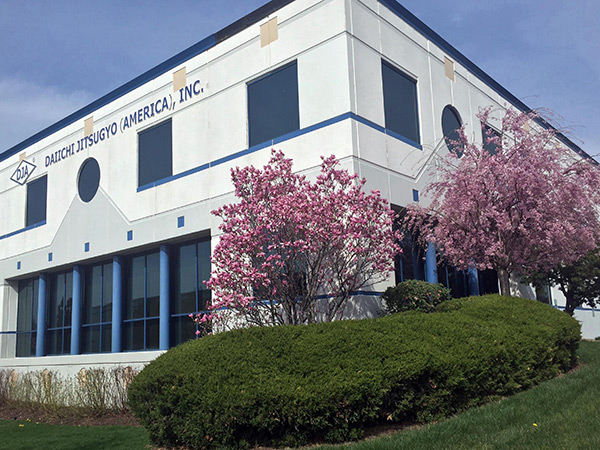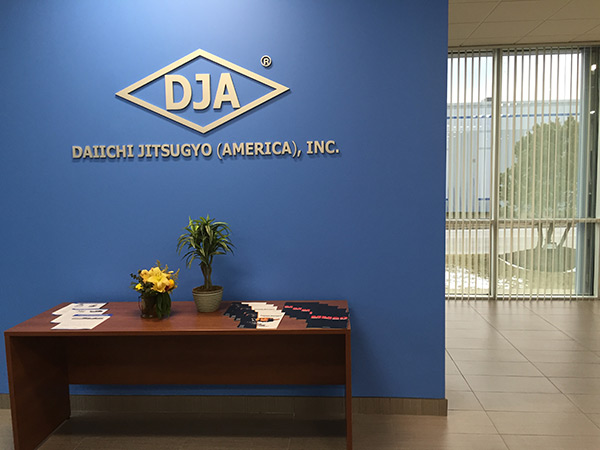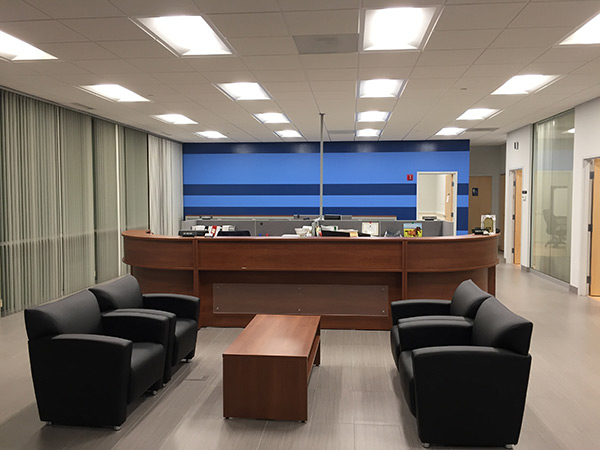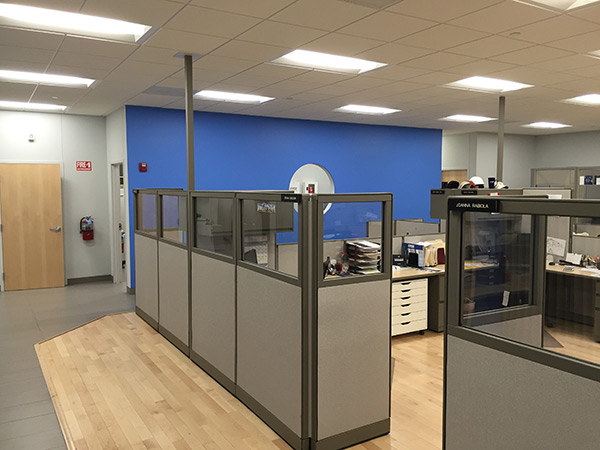 | | |
| --- | --- |
| Aug. 1948 | Our parent company Daiichi Jitsugyo Co. Ltd. (DJK) founded in Tokyo, Japan |
| Apr. 1968 | Establishment of New York Office |
| Apr. 1972 | Founding of DAIICHI JITSUGYO (AMERICA), INC. |
| Apr. 1974 | Establishment of Chicago Office (Head Office of DAIICHI JITSUGYO (AMERICA), INC.) |
| Oct. 1974 | Establishment of Houston Office |
| Jul. 2004 | Establishment of Knoxville Office |
| Dec. 2004 | Founding of DAIICHI JITSUGYO PUERTO RICO, INC. |
| Jun. 2005 | Founding of DJK GLOBAL MEXICO, S.A. DE C.V. |
| Jan. 2007 | Founding of DAIICHI JITSUGYO DO BRASIL COMERCIO DE MAQUINAS LTDA. |
| Oct. 2010 | Establishment of the Energy Equipment Solutions Division |
| Dec. 2015 | New Technical Center at Headquarters |