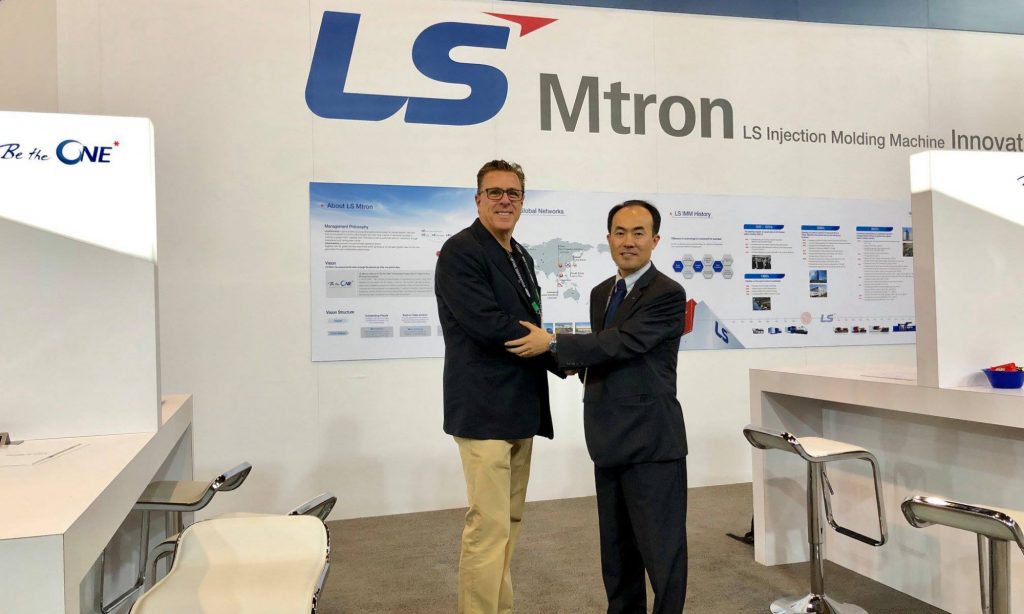 Wednesday, September 12, 2018 | Orlando, FL
LS Mtron Ltd. and Daiich Jitsugyo America (DJA) have finalized an agreement which appoints DJA as a Distributor in the United States. The agreement was made during the NPE 2018 Trade show, in which both companies exhibited. The Plastics Show—the largest plastics conference and tradeshow in the world, features more than 65,000 buyers from across the globe and more than 1 million square feet of exhibit space and has run from May 7-11, 2018 at Orange County Convention Center in Orlando.
Benefits for Both Companies
Peter Gardner, VP Sales and General Manager for DJA's Plastic Machinery Division said: "The addition of the excellent LS Mtron Products to our distributorship gives our customers a wider choice of injection molding machinery, including large tonnage 2-platen machines from 550 to 3600 tons, and servo hydraulic type toggle machines which are very price competitive with highly reliable technology.
Mr. Bryan Park, Marketing Manager for LS Mtron added: "DJA has been selling injection molding machines in the USA for over 35 years. We feel their well-organized team of sales and service engineers will help LS Mtron to revitalize our business in America."
Revitalization of LS Mtron's USA Business
LS Mtron has sold injection molding machines in the USA first as the Lucky Goldstar Brand in the 1970's and more recently as LG, part of the LG Group known to US consumers by their TV's, electronics and appliances. The machinery group changed to LS Mtron in 2008 and continued developing new products in a newly built high-tech manufacturing factory in South Korea and a new casting foundry, allowing the company to shorten lead times and control quality of their steel cast components. The company currently produces about 2,800 injection molding machines per year, with additional capacity available.
According to Howard Chung, LS Mtron's head of Overseas Sales: "Leveraging DJA's deep sales and service network aligns with our strategy in being a global top 7 maker of Injection Molding Machines."
About DJA
DJA is a subsidiary of the Japanese trading company, Daiichi Jitsugyo, a publicly listed company (Tokyo Exchange) founded in 1948. DJA opened for business in the USA in 1972, and currently has 5 business units, including divisions for Industrial Machinery, Automotive Projects, Pharma Equipment, Energy and Aviation, and Electronics. DJA has been a distributor of Injection Molding Machines in the USA since 1982. With 3 offices in the United States, DJA's main Headquarters, and Injection Molding Tech Center, are located in Wood Dale, IL.
About LS Mtron
The company began producing injection molding machines in 1969 in cooperation with Toshiba Machine of Japan. Known as Lucky Goldstar, and then as LG (known for consumer electronics and appliances) the Injection Molding Division was renamed to LS Mtron in 2008. As Korea's largest maker of Injection Molding Machines, LS Mtron has a comprehensive line-up including 35 to 5000 tons hydraulic injection molding machines, 20 to 950 tons all-electric machines, and 50 to 700 tons servo hydraulic toggle type machines. LS Mtron also produces a diversified portfolio of products including tractors, and military tank track shoes. The company owns a subsidiary casting facility (CASCO CASTING) which produces steel components for their products. LS Mtron exports 60% of products to 50 countries in the world. In 2017, the company produced over 2800 injection molding machines.